The comprehensive simulation system for KTO ROSOMAK, type JASKIER - is designed for training KTO Rosomak drivers. The simulators for KTO ROSOMAK, type JASKIER can be combined making up, depending on the needs the platoon structure or a company structure. Moreover, every simulator of JASKIER type can be connected with the training system for small arms of ŚNIEŻNIK type.
Jaskier is a comprehensive simulation system that allows training Simulator can be prepared in two variants - basic with the cabin on wheels, and 6DOF where the simulator cab is mounted on the motion platform which simulates the vehicle movements during driving in various land conditions.
Basic version of Jaskier is produced with cabin on wheels: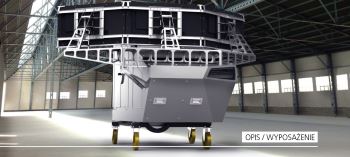 Jaskier simulator, depending on version contains:
- Simulator cabin


- Simulator's interior contains:

driver's desktop including the indicators and control devices
maneuvering reverse camera panel and the display LCD 6.5"
GPS navigation panel with the display LCD 6.5" and the control panel
control panel for the heating system, air conditioning and ventilation
panel with pushbuttons for power supply switch
driver's seat unit (complete seat with electric actuator for control of seat position, brake pedal, gas pedal with the device for reading their positions)
complete steering column with parking brake
gear stick
torque control unit for simulation of driving in difficult land conditions (SENSO-Wheel)
basic set for external communication
observation camera for the instructor
interior lighting
speaker set with subwoofer
air exchange system
firefighting system panel (dummy)
emergency stop pushbutton

- Simulator's exterior equipment contains:

hatch unit (complete hatch with opening and locking mechanisms in given position, windshield, limit switches for hatch position signaling and periscope for the driver)
external armour
front lamp (dummy)
system of three monitors LCD 46" displaying the simulated land conditions or the screen situated 2.5 m from the driver's eyes
entrance door for the trained person
masking mats
computer station with four monitors LCD 22" for the instructor
the rack including 4 control computers
transport wheels (in the case the mobile platform is missing)

- Additional specialized equipment and modifications on customers request


- Motion simulation platform, works with 6 degree of freedom (version 6DOF)
Example visualisation screens from simulator: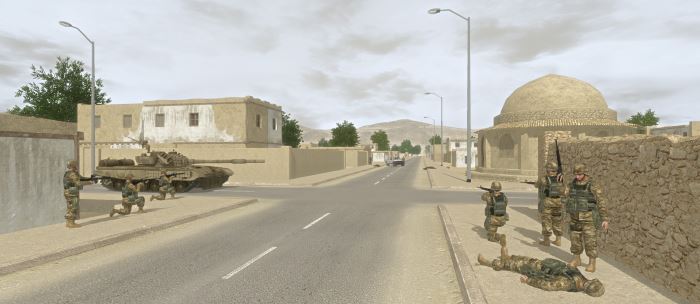 Jaskier in 6DOF version has been prepared for use in the process of training the mechanician-drivers and improving their skills of driving in difficult and dangerous conditions and it is to enable the realization of exercises to the extent of:
construction and functioning of mechanism in the mechanic-driver compartment
motor start up in various conditions
starting and stopping in flat land and on a slope
driving along the determined route of average rate of difficulty
driving in various land conditions
driving in various weather and lighting conditions
overcoming the land obstacles (crossing water obstacles, limited passages, bridges, tank traps)
developing at the driver the habit of observation of motor parameters and the power transmission system
driving in close formation
driving on the battlefield including also during conducting the effective fire
behavior in dangerous situations on the roads and battlefield
Jaskier in 6DOF version: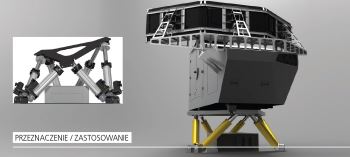 | | | |
| --- | --- | --- |
| Technical data | JASKIER | JASKIER 6DOF |
| Number of pre-programmed exercises: | unlimited | unlimited |
| Lenght | 3034 mm | 3034 mm |
| Width | 2786 mm | 2786 mm |
| Height | 2085 mm | 2498 mm |
| Weight | ok 1200kg | ok 2030kg |
| | | |
| Operating conditions | JASKIER | JASKIER 6DOF |
| Operational temperature | +18°C ÷ +35°C | +18°C ÷ +30°C |
| Storage temperature | +5°C ÷ +50°C | +5°C ÷ +50°C |
| Relative humidity | 10% ÷ 80% / 10% ÷ 95% | 20% ÷ 80% / 10% ÷ 90% |
| Power supply | 230V, 50Hz | 3x 380 - 480 V, 50/60Hz |
| Power consumption (peak/nominal) | ~ 800W | 17 kW / 4 kW |
Depending on the customer's requirements there are possible extended configurations with additional training posts, external devices or software functions.