The simulator of three-dimensional models of sea armaments is a modern system which enables training and skills improvement of warrant officers, officers and ship crews in regards to operation of artillery, rocket armaments and artillery munitions. The system may be operated in a training mode (getting acquainted with armaments design and operation on the basis of three-dimensional models) and in an exam mode (trainee testing on the basis of visualisation scenarios).
The system consists of a trainee station and an optional trainer station. Each of the stations is completely equipped by the company, some elements of the equipment are:
dedicated furniture,
handles,
instruments,
computer with software,
computer displays,
an example photograph of the expmple training room: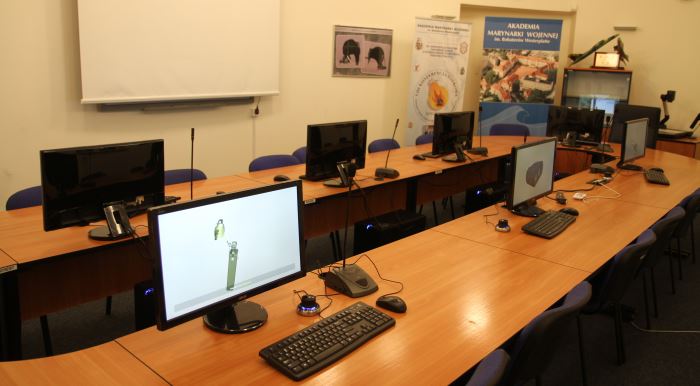 | | |
| --- | --- |
| 3D mouse | 3D goggles |
Different functionalities are available for the trainer (lecturer) station and for the trainee station:
The trainer station enables control (management) of operation of connected trainee stations. Within these activities it is possible to:
select and control the process of exercise at individual stations
record and play back the executed scenarios at a later date
view and momentarily override the control over the process of exercise at a selected station
create exercise scenarios
view and print the training results recorded in the database
The trainee station enables virtual operation of individual types of sea armaments. The basis of station operation is provided by three-dimensional models of armaments the vessels of the Navy of RoP are equipped with. Depending on the hardware configuration of the station, the models may be displayed in 2D technology or in 3D stereoscopic imaging (projection of two video signals on two independent displays installed in the goggles).
The virtual scope of operation of sea armaments includes identification of individual functional elements in the longitudinal and transverse systems as well as installation and removal of main assemblies included in the equipment. The removed assemblies may be viewed from any perspective thanks to the functions of their rotation, zooming in and out. The station is equipped with a 3D manipulator, enabling all operations related to motion in the virtual environment.
Application screenshots: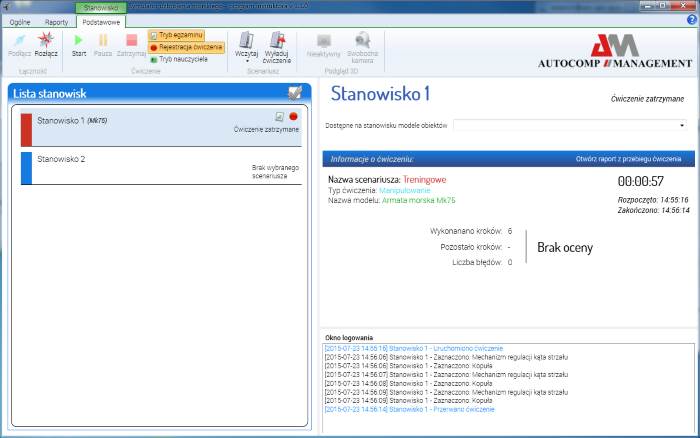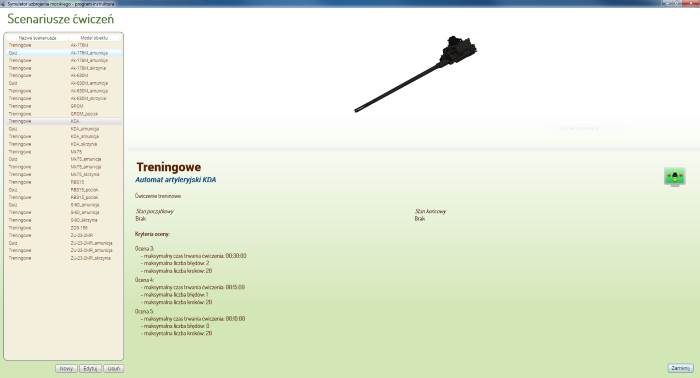 Example armament and ammunition models:
Operation modes:

Individual (single training station)
Network (instructor station + any number of trainee stations),

Image generation technology:

2D (monitor, projector)
3D (virtual reality goggles)

Available armament models:

Ak-630M sea gun
Mk75 sea gun
KDA artillery automaton
ZU-23-2MR sea rocket artillery set
GROM anti-aircraft rocket set
Ak-176M universal sea gun
RBS15 launcher
ZGS-158 integrated tracking head,

Available munition models:

23 mm ammunition with a crate
30 mm ammunition with a crate
30 mm ammunition with a crate
57 mm ammunition with a crate
76 mm ammunition with a crate
76.2 mm ammunition with a crate
GROM rocket shell
RBS15 anti-vessel maneuvering missile
Depending on the needs, configurations with additional stations, external equipment and software functionalities are available. Within the executed projects, the company provides the option of expert care in the form of training, servicing and development support.