The Spartan system is intended for training of small tactical units of the Armoured and Mechanised Forces. It enables multi-level training of small tactical units (from a squad level, through platoons and companies, up to a batallion level) reinforced with support and security units. The system guarantees real-like fidelity of fire training in virtual reality for a single soldier, a full squad or an infantry platoon, by using armament simulators made on the basis of actual weapons and armament elements, actual ballistic properties and the ability to hit enemy objects. The system enables simulation of tactical activities on the basis of actual combat capabilities of hitting, recognition, logistic security and command sub-systems.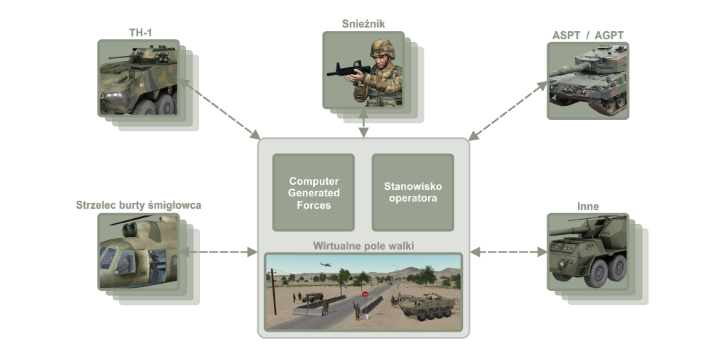 | | |
| --- | --- |
| | Snieznik - the training system enables to train infantrymen using standard firearms without the use of ammunition. |
| | |
| | Hellicopter gunner - the training system enables the training of on-board helicopter gunmen |
| | |
| | TH-1 - the trainer of basic gunman and turret system commander training HITFIST 30 mm the KTO Rosomak is equipped with. |
| | |
| | Other - the support simulators (WRiA – missile forces and artillery, OPL – anti-aircraft warfare, engineering, OPBMR – protection against weapons of mass destruction) and all other simulators equipped with a compatible communication protocol |
The system is equipped with an advanced graphical editor of exercises which operates on a tactical map and a built-in set of ready combat operation scenarios: offensive, defensive, delaying and preparation exercises. The scenarios include elements of patrolling, convoy coverage, raids, reconnaissance activities and combat with airborne landings using elements of artificial intelligence and the option of executing asymmetric operation scenarios. It is also possible to represent the actions of small-scale units of a virtual enemy and of own forces on the basis of the central component with the implemented Computer-Generated Forces (CGF) technology. In addition, the implemented DIS / HLA interfaces enable existing, actual weapon simulators to be used for the following weapons: ŚNIEŻNIK, TH-1, ASPT, AGPT, PUCHACZ, GOWOREK and they provide the option of effective cooperation with other simulation systems and command support systems.
Intended use of the system:
training, improvement and evaluation of combat with participation of small units of the Land Forces,
training, improvement and evaluation of planning and organising tactical operations (by squad, platoon, company, batallion commanders and batallion staffs),
tactical education and training of tactical level commanders as well as components of batallion support and security in regards to basic tactical operations and cooperation with other armed forces,
evaluation of correctness of performed calculations as a part of fire, maneuvering and reconnaissance planning and of logistics.